Loading skipass
Address: Centrumhuset, 920 66 Hemavan
Date: Friday 3 nov 2017 - Tuesday 1 May 2018
Show map
Address: Centrumhuset, 920 66 Hemavan

2 ski resorts - 1 ski pass
Hemavan and Tärnaby offer skiing on every level for the whole family in the same ski pass.
The resorts differ a bit from each other. Togehter they offer everything from the nicest slope for children to off-piste and slopes for adults.

Night skiing is included in all ski passes that's valid at one whole day.
One day or one week, there is always a skipass which will be suitable for you. Load your existing Key card here. Children 0-7 years with helmet are free but they need their own Key card.
Show more
Book now - choose start date and product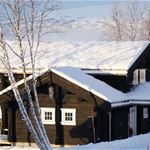 Cabin & apartment
Distance: 325 meters
Newly built and modern cabin with 5 bedrooms and 11 beds. Living area 130 m2. Very nice cabin for the big family or a small conference group.
Hotel
Distance: 264 meters
Hemavan Fjällstation, former SMU Fjällgård, is a drug free alternative for individual guests, families and groups. The facility offers a relaxed environment and several rooms were you can spend time together.
Hotel
Distance: 205 meters
In the middle of the village is Hemavans Wärdshus, an atmospheric Västerbotten farmhouse from the 1700s that exudes rustic charm. You live only minutes from the ski lift and in the evening the restaurant awaits you. The Inn is the perfect option for those who want to have as close to the airport as to the ski lift!