Loading skipass
Address: Centrumhuset, 920 66 Hemavan
Date: Thursday 1 nov 2018 - Wednesday 1 May 2019
Show map
Address: Centrumhuset, 920 66 Hemavan

2 ski resorts - 1 ski pass
Hemavan and Tärnaby offer skiing on every level for the whole family in the same ski pass.
The resorts differ a bit from each other. Togehter they offer everything from the nicest slope for children to off-piste and slopes for adults.

Night skiing is included in all ski passes that's valid at one whole day.
One day or one week, there is always a skipass which will be suitable for you. Load your existing Key card here. Children 0-7 years with helmet are free but they need their own Key card.
Show more
Book now - choose start date and product
Hostel
Distance: 360 meters
Hemavan is what mountain life is all about. A smaller village near Vindelfjällens nature reserve, it has a vibrant cultural landscape, with an active settler and Sami life where the reindeer business still has a prominent role.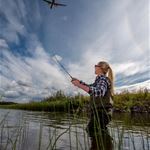 Hotel
Distance: 360 meters
Hemavan Fjällcenter is located 250 m from Hemavan airport. The airport has a direct flight to Stockholm Arlanda. Hotel rooms with shower, toilet and TV. Single beds, also in double rooms.
Hotel
Distance: 264 meters
Hemavan Fjällstation, former SMU Fjällgård, is a drug free alternative for individual guests, families and groups. The facility offers a relaxed environment and several rooms were you can spend time together.