The Sami family, Klementsson, built the Atostugan cottage eaven thoug it was forbidden for the Sami to construct permanent buildings.
The place where the Atostugan cottage is now situated is one of the oldest Sami settlements known to literature. Its documentation goes as far back as the eighteenth century and its real name is Risbäckens sommarviste (= Risbäcken brook summer dwelling). The tiny Atostugan cottage was built without a permit by a Sami family named Klementsson in the early 1920s. At that time the Sami people were prohibited from erecting permanent dwellings in the mountain country. It was thanks largely to the uproar provoked by the Atostugan affair that this exceedingly discriminatory law was changed as early as 1928 and the Sami people were no longer forced to live in tent huts. The cottage subsequently became a teacher's residence for the tent hut school for the Sami children who remained in the district until 1945. Lessons were held in tent huts. The children also lived in tent huts similar to the recently-restored example now to be seen at the site.
Show more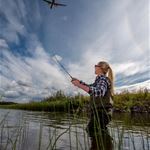 Hotel
Distance: 26.9 km
Hemavan Fjällcenter is located 250 m from Hemavan airport. The airport has a direct flight to Stockholm Arlanda. Hotel rooms with shower, toilet and TV. Single beds, also in double rooms.
Hotel
Distance: 27.4 km
Hemavan Fjällstation, former SMU Fjällgård, is a drug free alternative for individual guests, families and groups. The facility offers a relaxed environment and several rooms were you can spend time together.
Hostel
Distance: 26.9 km
Hemavan is what mountain life is all about. A smaller village near Vindelfjällens nature reserve, it has a vibrant cultural landscape, with an active settler and Sami life where the reindeer business still has a prominent role.