The brook in the middle of the village, known as Slipstensbäcken or Kvarnbäcken (= the grindstone brook or the mill brook) has been used for driving the village's grindstones and a mill for grinding corn.
There is a collection of water-powered grindstones 100 metres above the petrol station in Hemavan. To have newly-sharpened scythes was important for haymaking in the boggy flood-meadows of the Umeälven river. Much hay was needed for cattle and horses during the long winter.
Show more
Hotel
Distance: 176 meters
Hemavan Fjällstation, former SMU Fjällgård, is a drug free alternative for individual guests, families and groups. The facility offers a relaxed environment and several rooms were you can spend time together.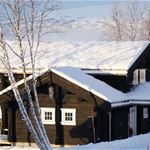 Cabin & apartment
Distance: 593 meters
Newly built and modern cabin with 5 bedrooms and 11 beds. Living area 130 m2. Very nice cabin for the big family or a small conference group.
Hotel
Distance: 556 meters
If you want to stay comfortably and next door to the slopes and lifts, Hemavan's Högfjällshotell is the perfect choice for you. The hotel i open during winterseason.