Hemavan
Address: 920 66 Hemavan
Show map
Address: 920 66 Hemavan

In Hemavan, there are a large number of pistes with a wide range of difficulty levels providing something for the whole family! There are plenty of opportunities for those wanting to ski by themselves in pristine, untouched snow. Since last season, Länken is a corridor which provides a useful link from the top of the Centrumbacken ski lift to the Kungsliften ski lift.
Piste facts
Vertical drop: 665 m
No. of lifts 9
No. of slopes 30
Difficult: 2
Red 9
Blue 7
Green 12
Childrens/beginners area yes
Off piste Ja
Show more
Hostel
Distance: 502 meters
Hemavan is what mountain life is all about. A smaller village near Vindelfjällens nature reserve, it has a vibrant cultural landscape, with an active settler and Sami life where the reindeer business still has a prominent role.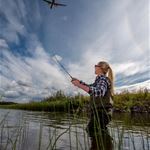 Hotel
Distance: 502 meters
Hemavan Fjällcenter is located 250 m from Hemavan airport. The airport has a direct flight to Stockholm Arlanda. Hotel rooms with shower, toilet and TV. Single beds, also in double rooms.
Hotel
Distance: 142 meters
Hemavan Fjällstation, former SMU Fjällgård, is a drug free alternative for individual guests, families and groups. The facility offers a relaxed environment and several rooms were you can spend time together.