Hemavan
Address: 920 66 Hemavan
Show map
Address: 920 66 Hemavan

In Hemavan, there are a large number of pistes with a wide range of difficulty levels providing something for the whole family! There are plenty of opportunities for those wanting to ski by themselves in pristine, untouched snow. Since last season, Länken is a corridor which provides a useful link from the top of the Centrumbacken ski lift to the Kungsliften ski lift.
Piste facts
Vertical drop: 665 m
No. of lifts 9
No. of slopes 30
Difficult: 2
Red 9
Blue 7
Green 12
Childrens/beginners area yes
Off piste Ja
Show more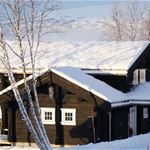 Cabin & apartment
Distance: 437 meters
Newly built and modern cabin with 5 bedrooms and 11 beds. Living area 130 m2. Very nice cabin for the big family or a small conference group.
Hotel
Distance: 142 meters
Hemavan Fjällstation, former SMU Fjällgård, is a drug free alternative for individual guests, families and groups. The facility offers a relaxed environment and several rooms were you can spend time together.
Hotel
Distance: 343 meters
In the middle of the village is Hemavans Wärdshus, an atmospheric Västerbotten farmhouse from the 1700s that exudes rustic charm. You live only minutes from the ski lift and in the evening the restaurant awaits you. The Inn is the perfect option for those who want to have as close to the airport as to the ski lift!