Exclusive ice fishing & summer fishing with Stig Strand
Address: Hemavan, 92064 Kvarnstensvägen 1
Show map
Address: Hemavan, 92064 Kvarnstensvägen 1

Together with Vindelfjällen Sami Centre, we can offer a very exclusive fishing Hemavan Vindelfjällen. There are a few licenses per winter & summer. In one of the lake was average in 2010 1.7 kg of arctic char. The fishing is located in Vindelfjällen.
In summer we go by helicopter to the places where we fish.

In winter we use the snowmobiles and drive into the mountains to finally reach smaller lakes east from Tärnasjön.
Show more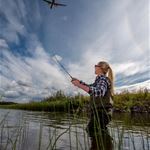 Hotel
Distance: 350 meters
Hemavan Fjällcenter is located 250 m from Hemavan airport. The airport has a direct flight to Stockholm Arlanda. Hotel rooms with shower, toilet and TV. Single beds, also in double rooms.
Hotel
Distance: 325 meters
Hemavan Fjällstation, former SMU Fjällgård, is a drug free alternative for individual guests, families and groups. The facility offers a relaxed environment and several rooms were you can spend time together.
Hostel
Distance: 350 meters
Hemavan is what mountain life is all about. A smaller village near Vindelfjällens nature reserve, it has a vibrant cultural landscape, with an active settler and Sami life where the reindeer business still has a prominent role.