Rare orchid tour
Location
: The Tängvattnet valley
Category:
Events, Discover more! summer
Date: Thursday 12 jul 2018
- Saturday 4 Aug 2018
Visit Rödingsnäset, one of only four sites worldwide where Brudkulla (Gymnigritella runei) is found. It will also be possible to see several more species of orchids and other beautiful plants. These 5 km walks last between four and five hours with the final ascent to the summit covering quite steep terrain. The dates for the tour are approximate and will depend on when the plants are in flower.
Gathering at Naturum at 10, after that we carpool to Rödingnäset which is a place with a large varity of flowers and plants.
Prices from
100 SEK
Price information
100 SEK per person. Free for children under the age of 15.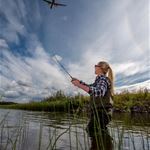 Hotel
Distance: 881 meters
Hemavan Fjällcenter is located 250 m from Hemavan airport. The airport has a direct flight to Stockholm Arlanda. Hotel rooms with shower, toilet and TV. Single beds, also in double rooms.
Hotel
Distance: 234 meters
If you want to stay comfortably and next door to the slopes and lifts, Hemavan's Högfjällshotell is the perfect choice for you. The hotel i open during winterseason.
Hotel
Distance: 717 meters
Hemavan Fjällstation, former SMU Fjällgård, is a drug free alternative for individual guests, families and groups. The facility offers a relaxed environment and several rooms were you can spend time together.