STF Hemavan Mountain station
Address

: Fjällstigen 2, 920 66 Hemavan
show map
Location: Hemavan
Hotel | Hemavan Fjällstation, former SMU Fjällgård, is a drug free alternative for individual guests, families and groups. The facility offers a relaxed environment and several rooms were you can spend time together.
We offer totally 96 beds, 52 in the main building and 44 in the annex. The facility lies beautifully in the middle of Hemavan, with slopes just outside the door, close to post office, stores, ski rentals, swimming and other services.
The main building has 13 roomy bedrooms, with four beds in each room. Shower and toilet are shared with the room next door.

Hemavan Fjällstation has lots of places that offers different kinds of relaxation. You can sit beside the fireplace, play ping-pong or indoor bandy in the exercise hall, or maybe take a sauna bath after a long day out in the mountains. There are two large saunas. On the second floor there is a beautiful church hall that have the capacity of 100 persons. This can be used for everything from a wedding to conducting a service. In the The basement offers possibilities to clean and dry your clothes in the washing machine or in one of the two large drying rooms.
Facilities and services
General facilities

Room facilities

Eat & Drink on site
Compare "STF Hemavan Mountain station" with similar alternatives
If you want to stay comfortably and next door to the slopes and lifts, Hemavan's Högfjällshotell is the perfect choice for you. The hotel i open during winterseason.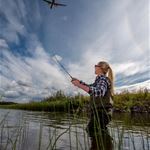 Hemavan Fjällcenter is located 250 m from Hemavan airport. The airport has a direct flight to Stockholm Arlanda. Hotel rooms with shower, toilet and TV. Single beds, also in double rooms.
Hemavan is what mountain life is all about. A smaller village near Vindelfjällens nature reserve, it has a vibrant cultural landscape, with an active settler and Sami life where the reindeer business still has a prominent role.