Hemavan/Fjällcenter, STF Hotel
Address
: Renstigen 1, 92066 Hemavan
(
show map
)
Location: Hemavan
Hotel | Hemavan Fjällcenter is located 250 m from Hemavan airport. The airport has a direct flight to Stockholm Arlanda. Hotel rooms with shower, toilet and TV. Single beds, also in double rooms.
Hemavan Fjällcenter is located 250 m from the nearest ski lift and slopes, and less then 300 m from "Europe's largest wilderness" i.e. Vindelfällens nature reserve. Take a swim in the 25 m long pool that is located at our grounds. When booking half- or full week you are allowed to use the pool for free! Thanks to the high calcareous richness in the area, the mountains have in summertime a fantastic flora. And the botanical garden in Hemavan is one of the best of its kind in Europe.
Compare "Hemavan/Fjällcenter, STF Hotel" with similar alternatives
Hemavan is what mountain life is all about. A smaller village near Vindelfjällens nature reserve, it has a vibrant cultural landscape, with an active settler and Sami life where the reindeer business still has a prominent role.
In the middle of the village is Hemavans Wärdshus, an atmospheric Västerbotten farmhouse from the 1700s that exudes rustic charm. You live only minutes from the ski lift and in the evening the restaurant awaits you. The Inn is the perfect option for those who want to have as close to the airport as to the ski lift!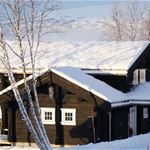 Newly built and modern cabin with 5 bedrooms and 11 beds. Living area 130 m2. Very nice cabin for the big family or a small conference group.