Hemavan/Fjällcenter, STF Hotel
Address

: Renstigen 1, 92066 Hemavan
show map
Location: Hemavan
Hotel | Hemavan Fjällcenter is located 250 m from Hemavan airport. The airport has a direct flight to Stockholm Arlanda. Hotel rooms with shower, toilet and TV. Single beds, also in double rooms.
Hemavan Fjällcenter is located 250 m from the nearest ski lift and slopes, and less then 300 m from "Europe's largest wilderness" i.e. Vindelfällens nature reserve. Take a swim in the 25 m long pool that is located at our grounds. When booking half- or full week you are allowed to use the pool for free! Thanks to the high calcareous richness in the area, the mountains have in summertime a fantastic flora. And the botanical garden in Hemavan is one of the best of its kind in Europe.
Compare "Hemavan/Fjällcenter, STF Hotel" with similar alternatives
Hemavan is what mountain life is all about. A smaller village near Vindelfjällens nature reserve, it has a vibrant cultural landscape, with an active settler and Sami life where the reindeer business still has a prominent role.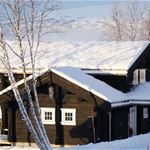 Newly built and modern cabin with 5 bedrooms and 11 beds. Living area 130 m2. Very nice cabin for the big family or a small conference group.
Hemavan Fjällstation, former SMU Fjällgård, is a drug free alternative for individual guests, families and groups. The facility offers a relaxed environment and several rooms were you can spend time together.