Hemavan, STF Hostel
Address

: Renstigen 1, 92066 Hemavan
show map
Location: Hemavan
Hostel | Hemavan is what mountain life is all about. A smaller village near Vindelfjällens nature reserve, it has a vibrant cultural landscape, with an active settler and Sami life where the reindeer business still has a prominent role.
STF Hostel Hemavan is a warm and welcoming hostel where mountain tourists and larger conference groups come to enjoy themselves. There is something for everyone here, from a swimming pool to canoes and bicycles for hire. During the summer months there is also golf and a tennis court.

The hostel is close to many activities. In winter the ski facilities are popular and many ski stars have sprung from here over the years. Lake and stream fishing are popular, and the scenic Kungsleden (Kings Trail) leads you into Europe's biggest wilderness. Many other trails and paths are suitable for day- and overnight trips.

2008 saw the launching of the Kungsledsrännet ski competition, in coordination with STF and Ammarnäs IF. The race begins in Hemavan and follows the Kungsleden track to Ammarnäs.
Compare "Hemavan, STF Hostel" with similar alternatives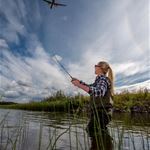 Hemavan Fjällcenter is located 250 m from Hemavan airport. The airport has a direct flight to Stockholm Arlanda. Hotel rooms with shower, toilet and TV. Single beds, also in double rooms.
Hemavan Fjällstation, former SMU Fjällgård, is a drug free alternative for individual guests, families and groups. The facility offers a relaxed environment and several rooms were you can spend time together.
If you want to stay comfortably and next door to the slopes and lifts, Hemavan's Högfjällshotell is the perfect choice for you. The hotel i open during winterseason.